4DEP Developing Yourself as an Effective Human Resources or Learning and Development Practitioner
June 13, 2020

Posted by:

Harry King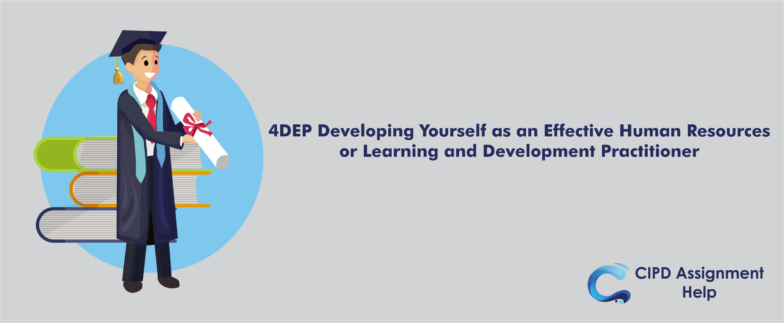 Unit Overview
This unit is intended to allow the learner to gain a deeper understanding of the expertise, skills and behavior expected of a skilled practitioner, whether their position is generalist in nature or specialist, for instance L&D. It allows learners to come up with a personal development plan that addresses their personal and professional needs, following a self-assessment of learning and growth needs. In this regard, the CIPD has created a HR profession map (HRPM), identifying the expertise, skills set, and behaviors needed by professionals in human resources (HR) as well as learning and development (L&D) (CIPD, 2013). Therefore, the HRPM is a structure of activities that need to be done, items that need to be identified to become a competent human resource practitioner, and how to define and achieve it. The map provides important information about the organization's HR functions. It also demonstrates relevant skills and experiences in all levels of human resource fields (Ulrich et al., 2015). The map was created, in essence, as a guide for HR practitioners on the standards agreed globally.
The HRPM comprises three vital components which include: the ten professional fields, the eight behaviors, the four bands and transitions. The 10 professional areas cover what a human resource manager needs to know and do; the eight behaviors relate to HR ways of conducting things; the four bands and transitions illustrate of the profession 's hierarchy (Ulrich et al., 2015).  The band emphasizes ten professional areas at the four bands. They also match the eight vital behaviors anticipated from all professionals in the human resource profession. The ten professional areas explain what professionals should know and accomplish-they include: Organization design, insight, strategy and solution, employee engagement, employee relations, service, delivery and information, performance and reward, leading HR, resourcing and talent planning, organizational development, learning and developing talent (CIPD, 2013). Leading HR and insights, strategy and solutions form the two main professional fields, as they relate to all HR practitioners.
Unit Objectives
Upon completing this unit, a learner is expected to comprehend the knowledge, skills and behaviors necessary to be an effective human resource or L&D practitioner; knowing how to provide timely and reliable HR services to suit the needs of customers; and be able to focus on the needs of one's own practice and create a professional development plan.
Leading HR
This professional field emphasizes on being active, informative and offering direction as an HR professional. In this case, a HR specialist owns, defines, and drives themselves and others, as well as the organization's activities-a HR professional, is not a spectator but an active leader (CIPD, 2013). Essentially, Leading HR is a model that suggests that a HR professional leads from the perspective of a role model in terms of better service, which is aimed at accomplishing the organizational goals and motivating teams within the organization. In addition, according to the Leading HR model, HR professionals must possess people as well as interpersonal skills with which to interact with staff members at various levels and backgrounds (Ulrich et al., 2015). In doing so, they use their human resource management expertise and experience to develop team understanding of the organizational vision and ambitions. They also concentrate on creating effective, forward-driven teamwork through training programs and mentorship activities.
Insights, Strategy, and Solutions
The professional field explains how a HR professional can contribute to performance improvement for the organization, by using experience to build on strategies and produce appropriate, dynamic, and innovative solutions. An effective human resource professional is actively involved in cultivating an understanding of organizational objectives and actively contributes to the achievement of goals through knowledge of the organizational structure and coordination of the employees (Ulrich et al., 2015).  A human resource specialist must have a clear understanding of the goods or services of their organization, and the types of clients that their organization intends to serve (CIPD, 2013). As such, equipped with adequate information about the structure, objectives, products, and customers of their organization, a HR professional is entrusted with the duty of providing guidance in the development of strategies and solutions to HR problems that affect the organization as a whole.
The Eight Behaviors
Under the HRPM, the eight behaviors describe how human resource tasks should be carried out and their importance to the organizational objectives for success in the future. The eight behaviors, according to the HRPM, include: being a decisive thinker, being personally credible, being driven to deliver, having courage to challenge, being a role model, being curious, collaborative, and being a skilled influencer (Ulrich et al., 2015). Being a decisive thinker means having the ability to analyze and comprehend data and knowledge. Personal credibility means that the HR specialist must exemplify professionalism by applying the organizational and human resources experience which generate value for the organization. Being driven to deliver translates to being dedicated, motivated, and focused with a view to transforming and adding value to the organization. Having the courage to challenge means that a professional HR must not avoid criticism, and must speak openly to challenge the status quo along with resistant to change (Ulrich et al., 2015).  Being a role model means leading by constantly demonstrating integrity, objectivity and independence. In this case, the HR professional should also show the capacity to be bound by the confines of personal life, organizational constraints, and legal requirements. Curiosity translates to a HR professional being interested in discovering new and evolutionary ways of solving HR problems. Being collaborative means promoting inclusivity and displaying the ability to work successfully with others both within and outside the organization. Being a skilled influencer means being persuasive, having the ability to inspire inspiration, engagement and securing support from the organization's wider stakeholders.
The Four Bands of Competence
The four bands of competence are marked from 1 to 4. The first covers the early career of a HR professional, culminating in the fourth band for most senior HR professionals. A HR assistant falls under the occupational field of band 2 (CIPD, 2013). As such, the expertise, skills and behaviors that are important to HR assistance 's position include: personal competency, integrity, curiosity and knowledge of the organization. Professional competency means expertise in human resource tasks and business needs.  Credibility means displaying professionalism in one's organizational activities. Curiosity translates to being innovative and inquisitive regarding issues surrounding human resources. Having organizational knowledge means familiarizing oneself with the organizational structure, objectives, goods or services, and customers to operate in compliance with the organizational expectations.
References
CIPD. (2013). "Professional Map". Available https://www.cipd.co.uk/knowledge
Ulrich, D., Brockbank, W., Ulrich, M., and Kryscynski, D. (2015). Toward a Synthesis of HR Competency Models: The Common HR" Food Groups.