Benefits of Zero Hour Contracts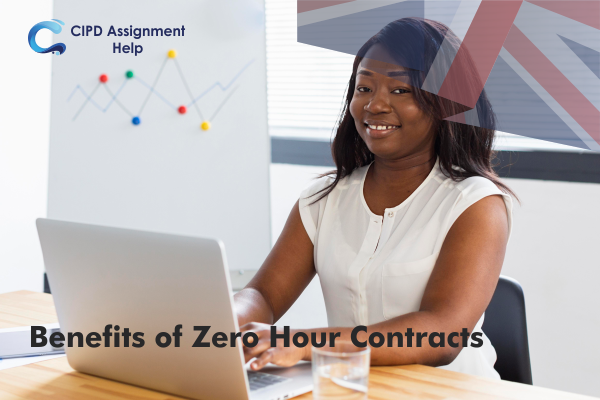 Benefits of Zero-hour Contracts: Maximizing Flexibility and Opportunities
Introduction
Zero-hour contracts have become a prevalent topic of discussion in today's workforce. This type of employment agreement offers both advantages and disadvantages to employers and employees alike. In this article, we will delve into the benefits of zero-hour contracts and explore how they can provide flexibility, promote work-life balance, offer growth opportunities, simplify operations, and benefit employers. We will also discuss the disadvantages that both employers and employees may encounter. So, let's explore the world of zero-hour contracts and discover how they can shape the modern working landscape.
Flexibility: Redefining Work Schedules
Zero-hours contracts offer unparalleled flexibility for both employees and employers. Unlike traditional employment agreements with fixed schedules, zero-hour contracts allow workers to choose when they want to work based on their availability.
This arrangement is particularly beneficial for individuals with other commitments or responsibilities, such as students, parents, or those pursuing personal interests. Furthermore, companies can quickly adapt to changes in demand by having a pool of flexible workers at their disposal.
Work-Life Balance: Personal Well-Being and Professional Growth
Achieving a healthy work-life balance is crucial for overall well-being. Zero-hour contracts contribute to this balance by providing employees with the freedom to allocate time for personal commitments, hobbies, and relationships.
With the ability to have zero hours workers manage their own schedules, workers can reduce stress and prevent work from overwhelming other areas of their lives. This arrangement also enables individuals to pursue additional educational or professional endeavours without the constraints of rigid working hours.
Better Compensation: The Relationship Between Work and Earnings
Zero-hour contract workers are paid based on the number of hours worked, providing them with a direct correlation between effort and compensation. Unlike full-time employees who receive a fixed salary regardless of the hours worked, individuals on zero-hour contracts have the opportunity to maximize their earnings.
Additionally, the freedom to work for multiple employers allows workers to explore different opportunities and increase their overall income.
4. Opening Doors to Full-Time Employment
For employers, zero-hour contracts serve as a gateway to evaluate potential candidates for full-time positions. By observing a worker's performance and capabilities during the contract period, employers can make informed decisions regarding permanent employment.
This arrangement of employment law benefits both parties, as it allows employees to showcase their skills and employers to make well-informed hiring decisions. Moreover, zero-hour contracts can provide an entry point for individuals seeking employment in new industries or transitioning to a different career path.
5. Growth Opportunities: Skills Development and Exploration
Contract work often entails exposure to various projects and employers, providing employees with diverse learning opportunities. Zero-hour contracts, with their fluid nature, encourage workers to adapt to different work environments, develop new skills, and broaden their expertise.
This flexibility enables employees to participate in specialized training programs or work on projects that align with their interests. Start-up companies, in particular, benefit from zero-hour contracts as they can utilize the talents of individuals with specific skills, without committing to long-term employment contracts.
6. Simplicity: Streamlining Recruitment and Employment
One of the primary advantages of zero-hour contracts for employers is the simplicity they offer. These contracts minimize the administrative burdens associated with hiring and ongoing employment. By eliminating the need for extensive paperwork, negotiations, and legal complexities, companies can streamline their recruitment process and quickly onboard workers when needed.
Similarly, employees can enjoy job opportunities without being burdened by paperwork or rigid shift schedules, making zero-hour contracts an attractive option for individuals juggling multiple jobs or pursuing education.
7. Advantages of Zero-Hour Contracts for Employers
Zero-hour contracts provide several advantages for employers. Firstly, they offer flexibility, allowing businesses to adapt their workforce based on fluctuating demand, ensuring that they have the necessary staff during peak seasons or busy periods.
Secondly, employing workers on zero-hour contracts helps reduce costs as there is no commitment to provide contracted hours during quiet periods. This flexibility also eliminates the need for paying agency fees during sudden surges in demand.
Lastly, zero-hour contracts enable businesses to promote growth without the commitment of hiring permanent employees, providing an opportunity to assess and convert exceptional contract workers into full-time staff.
8. Disadvantages of Zero-Hour Contracts for Employers
While there are advantages, employers should also consider the disadvantages of zero-hour contracts. One such disadvantage is the higher staff turnover associated with these contracts. Workers may view zero-hour contracts as temporary employment, leading to higher attrition rates as they seek more stable, permanent positions.
Additionally, the lack of reliability can pose challenges for employers when workers decline shifts due to prior commitments, potentially causing understaffing. The varying quality of work due to different individuals working on the same job is another issue that employers may face.
Lastly, high staff turnover can make it difficult to establish consistent company values, leading to mixed messages and potential confusion among customers.
Disadvantages of Zero-Hour Contracts for Employees
While zero-hour contracts offer flexibility and other advantages, employees should also be aware of the disadvantages. The absence of set schedules makes it challenging to plan for childcare or other commitments, especially if employees feel they need to be available on short notice.
Furthermore, the lack of guaranteed hours can lead to financial instability, as one week may offer sufficient work, while the next may provide no hours at all. This unpredictability can result in lower income and difficulties in meeting financial obligations.
Lastly, some workers may feel pressured to accept offered hours to ensure future opportunities, potentially compromising their work-life balance.
Conclusion
Zero-hour contracts can be a double-edged sword, offering both benefits and drawbacks to both employers and employees. While they provide flexibility, improved work-life balance, and growth opportunities, they also come with challenges such as higher turnover and inconsistent schedules.
It is essential for employers and employees to weigh these factors carefully and consider their individual circumstances before entering into either zero hours contract or part-hour contracts. Ultimately, finding the right balance and effectively managing these contracts can lead to positive outcomes for both parties involved.
FAQs
Can zero-hour contracts lead to permanent employment?
Yes, zero-hour contracts can serve as a pathway to permanent employment. Employers often use these contracts as an opportunity to evaluate workers' performance and determine their suitability for full-time positions.
How do zero-hour contracts promote work-life balance?
Zero-hour contracts provide employees with the flexibility to manage their schedules, allowing them to allocate time for personal commitments, hobbies, and other interests. This flexibility helps prevent work from overwhelming other aspects of their lives.
Do zero-hour contracts offer growth opportunities?
Yes, zero-hour contracts can provide growth opportunities. Employees on these contracts often work with multiple employers, gaining exposure to various projects and acquiring new skills. This can lead to invitations for training programs and the development of a diverse skill set.
Are zero-hour contracts suitable for individuals with multiple jobs?
Yes, zero-hour contracts can be beneficial for many casual workers and individuals working in multiple jobs. These contracts allow them to accommodate different work schedules and make it easier to manage their commitments effectively.
What challenges do employers face with zero-hour contracts?
Employers may encounter difficulties with high staff turnover, as some workers may view these contracts as temporary employment. Additionally, inconsistent schedules and varying quality of work can pose challenges in maintaining company values and ensuring consistent service to customers.