Higgs Model of Employer of Choice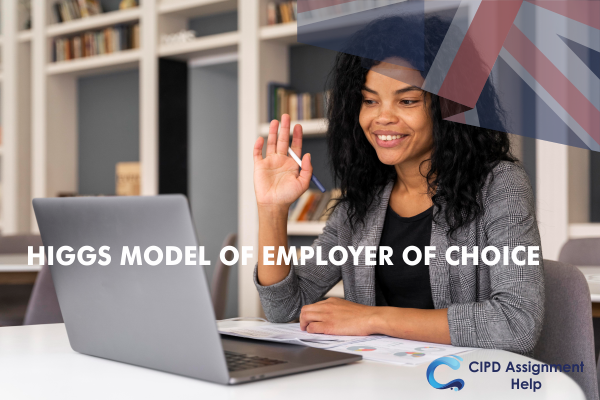 Higgs Model of Employer of Choice: Creating a Workplace that Attracts and Retains Talent
In today's competitive labour markets, attracting and retaining top talent has become a key priority for organizations. The Higgs Model of Employer of Choice provides a comprehensive framework for creating a workplace environment that appeals to prospective employees and encourages long-term commitment. This article explores the key elements of the Higgs Model and how organizations can implement it to become an employer of choice.
Understanding the Higgs Model of Employer of Choice
In today's competitive job market, organizations strive to become employers of choice to attract and retain top talent. The Higgs Model of Employer of Choice, as outlined by Higgs (2004), provides a comprehensive framework for organizations to create an environment where employees feel valued, engaged, and motivated. This model categorizes organizations into four organisational positions based on their approach to employment:
Employers of Cash: These organizations prioritize offering high financial compensation to their employees. While employees may be attracted to the competitive salaries, they often face challenges such as long working hours and high-pressure roles, which can lead to a diminished work-life balance.
Employers of Value: These organizations may not offer the highest salaries in the industry, but they focus on providing other forms of value to their employees. This can include job security, opportunities for professional growth, and a meaningful work environment. Employees in these organizations often feel rewarded and fulfilled in their roles due to the nature of the business and the support they receive.
Employers of Churn: In contrast to the previous two types, employers of churn prioritize cost-cutting measures and fail to prioritize employee well-being. They pay and treat employees poorly, resulting in high turnover rates. These organizations often struggle to attract and retain top talent due to their unfavorable reputation and negative work environment.
Employers of Choice: This is the ultimate goal for organizations in the competitive labor market. Employers of choice have successfully created an environment in which employees feel valued, respected, and connected to the organization. These organizations focus on providing competitive compensation, promoting work-life balance, offering growth and development opportunities, fostering employee engagement and recognition, ensuring effective communication channels, supporting diversity and inclusion, implementing flexible work arrangements, and creating a healthy and safe work environment.
Now, lets see what makes up the employer of choice.
Building a Positive Organizational Culture
A positive organizational culture is the foundation of becoming an employer of choice. It involves fostering an environment where employees feel supported, respected, and motivated.
Organizations should prioritize creating a culture that promotes collaboration, open communication, and teamwork. By cultivating a positive culture, employees are more likely to be engaged and committed to the organization's success.
Promoting Work-Life Balance
Achieving work-life balance is essential for employee well-being and satisfaction. Employers of choice recognize the importance of helping employees maintain a healthy equilibrium between their work responsibilities and personal lives.
This can be accomplished by offering flexible work arrangements, encouraging time off, and promoting healthy work-life integration. By prioritizing work-life balance, organizations show their commitment to employee well-being and foster a positive work environment.
Offering Competitive Compensation and Benefits
Competitive compensation and benefits play a significant role in attracting and retaining top talent. Employers and companies, of choice understand the importance of offering fair and competitive salaries, along with comprehensive benefits packages.
This includes health insurance, retirement plans, paid time off, and other perks that contribute to employees' overall well-being. By providing attractive compensation and employee benefits too, organizations can position themselves as desirable employers in the job market.
Providing Growth and Development Opportunities
Employers of choice prioritize the growth and development of their employees. They offer opportunities for skill-building, career advancement, and continuous learning. This can be achieved through training programs, mentorship initiatives, and career development plans.
By investing in employees' professional growth, organizations not only enhance their skill sets and retain talent, but also demonstrate their commitment to their employees' long-term success.
Fostering Employee Engagement and Recognition
Employee engagement and recognition are key factors in becoming an employer of choice. Organizations should create strategies to foster a sense of belonging, job security, involvement, and purpose among their employees.
This can be done through regular feedback, recognition programs, employee appreciation events, and opportunities for involvement in decision-making processes. By actively engaging and recognizing employees, organizations build a positive work culture and enhance employee satisfaction.
Ensuring Effective Communication Channels
Open and effective communication is crucial for creating a transparent and inclusive work environment. Employers of choice establish channels that enable clear and timely communication between management and employees.
This includes regular team meetings, feedback mechanisms, and transparent communication about organizational goals, changes, and initiatives. Effective communication fosters trust, alignment, and a shared sense of purpose.
Supporting Diversity and Inclusion
Employers of choice value and prioritize diversity and inclusion within their organizations. They create an inclusive work environment where employees from different backgrounds, cultures, and experiences feel valued and respected.
Implementing inclusive recruiting procedures, encouraging diversity in leadership roles, and giving staff members diversity training are all part of this. Organizations may foster creativity, innovation, organisational performance, and employee engagement by embracing diversity and inclusion.
Implementing Flexible Work Arrangements
Flexibility in work arrangements has become increasingly important in the modern workforce. Employers of choice offer flexible work options such as remote work, flexible schedules, and alternative work arrangements.
This allows employees to balance their personal commitments while fulfilling their work responsibilities. By providing flexibility, organizations demonstrate their trust in employees' ability to deliver results and promote a healthy work-life balance.
Creating a Healthy and Safe Work Environment
A healthy and safe work environment is a top priority for employers of choice. Organizations should ensure that workplace health and safety measures are in place and regularly updated.
This includes promoting physical and mental well-being, addressing occupational hazards, and providing resources for employees' health needs. By prioritizing a healthy and safe work environment, organizations create an atmosphere that supports employee well-being and productivity.
Measuring Employee Satisfaction and Feedback
Employers of choice actively seek feedback from their employees and measure their satisfaction levels. This research can be done through employee surveys, focus groups, and regular check-ins.
By gathering feedback, organizations can identify areas for improvement and implement strategies to enhance employee satisfaction. Regular measurement of employee satisfaction demonstrates a commitment to continuous improvement and creates a culture of openness and feedback.
Implementing Continuous Improvement Strategies
Employers of choice embrace a culture of continuous improvement. They strive to identify opportunities for growth and innovation within their organizations. This involves regular assessment of policies, practices, and employee experiences to identify areas for enhancement.
By implementing continuous improvement strategies, organizations ensure they remain adaptable and responsive to the evolving needs of their employees.
The Impact of Employer of Choice Status
Becoming an employer of choice has numerous benefits for organizations. It enhances their employer brand, making them more attractive to top talent and attracting candidates. This results in a larger pool of qualified candidates to choose from during the recruitment process.
Moreover, organizations that prioritize being an employer of choice experience higher employee retention rates, increased employee engagement, and improved productivity.
Case Studies of Successful Employer-of-Choice Organizations
Numerous organizations have achieved remarkable success in becoming employers of choice by implementing effective strategies and prioritizing their employees' well-being and development. Let's explore two compelling case studies:
Company X: Fostering a Culture of Flexibility and Growth
Company X, a leading technology firm, has solidified its reputation as an employer of choice by creating a workplace that values flexibility and promotes professional growth. The company introduced flexible work arrangements, allowing employees to choose their working hours and locations. This approach enabled a better work-life balance and increased employee satisfaction.
Moreover, Company X invested heavily in employee development programs. They established comprehensive training initiatives, mentoring programs, and career advancement opportunities. By empowering employees to learn, grow, and advance within the organization, Company X nurtured a motivated and engaged workforce.
The outcomes were significant. Company X experienced a notable reduction in turnover rates and attracted top talent from the industry. The company's commitment to fostering a positive work culture and providing growth opportunities positioned them as an employer of choice, resulting in increased employee loyalty and improved business performance.
Company Y: Embracing Diversity, Communication, and Recognition
Company Y, a multinational corporation in the consumer goods sector, became an employer of choice by prioritizing diversity, communication, and employee recognition. Recognizing the value of a diverse workforce, they implemented robust diversity and inclusion initiatives. These initiatives included unbiased hiring and retention practices, diversity training, and the creation of employee resource groups. By fostering an inclusive environment where employees felt respected and valued, Company Y attracted a diverse talent pool and benefited from a wide range of perspectives.
Additionally, Company Y placed a strong emphasis on effective communication. They established transparent communication channels, including regular town hall meetings, open-door policies, and feedback mechanisms. This approach facilitated a culture of trust, collaboration, and active engagement among employees.
Furthermore, the organization implemented a comprehensive employee recognition program. They celebrated individual and team achievements, providing tangible financial rewards and public acknowledgement. This recognition culture contributed to a positive work environment and motivated employees to strive for excellence.
As a result of their efforts, Company Y witnessed increased employee satisfaction, reduced turnover rates, and improved productivity. Their commitment to diversity, communication, and recognition positioned them as an employer of choice within the industry.
Conclusion
Becoming an employer of choice requires a strategic and comprehensive employment relationship approach. By understanding the Higgs Model of Employer of Choice and implementing its core principles, organizations can create an environment that attracts and retains top talent.
Building a positive organizational culture, promoting work-life balance, offering competitive compensation, providing growth opportunities, fostering engagement and recognition, and prioritizing effective communication are key steps in becoming an employer of choice.
By continuously measuring employee satisfaction, supporting diversity and inclusion, implementing flexible work arrangements, creating a healthy and safe work environment, retaining talent and embracing continuous improvement, organizations can solidify their status as an employer of choice and reap the benefits of a highly engaged and productive workforce.
FAQs
What does employer of choice mean by CIPD?
According to the Chartered Institute of Personnel and Development (CIPD), an "employer of choice" is an organization that has created an environment where employees feel valued, respected, and connected to the organization. It is an organization that employees willingly dedicate their efforts, resulting in the delivery of exceptional results.
What does it mean to be the employer of choice?
Being the employer of choice means that an organization is highly desirable and preferred by job seekers and existing employees. It signifies that the organization has established a positive reputation, offered attractive benefits and opportunities, and prioritized the well-being and growth of its employees. Being the employer of choice leads to increased talent attraction, improved employee retention, and a competitive advantage in the labour market.
What is the theory of employer branding?
The theory of employer branding revolves around the concept of creating a unique and appealing employer image and identity. It involves developing a strong employer brand that differentiates an organization from its competitors and attracts top talent.
Employer branding encompasses various strategies and activities aimed at shaping the organization's reputation as an employer, including promoting its culture, values, opportunities for growth, and employee experiences.
The theory emphasizes the importance of effectively communicating the organization's employer and employee value proposition to establish a strong employer brand and become an employer of choice.
How does being an employer of choice benefit an organization?
Being an employer of choice leads to higher employee satisfaction, improved retention rates, and a competitive advantage in attracting top talent. It also enhances the organization's reputation and positions it as a leader in its industry.
What are some strategies for fostering employee engagement?
Strategies for fostering employee engagement include promoting open communication, providing recognition and rewards, involving employees in decision-making, and creating a supportive work environment.
How can organizations promote diversity and inclusion?
Organizations can promote diversity and inclusion by implementing diversity training programs, adopting equitable hiring practices, and fostering a culture that celebrates and values differences.
What are the key elements of a healthy work environment?
A healthy work environment includes measures to ensure physical and mental well-being, such as proper safety protocols, ergonomic workstations, and wellness programs. It also involves promoting work-life balance and supporting employees' overall health.