Emerging Trends in the Types of Conflict and Industrial Sanctions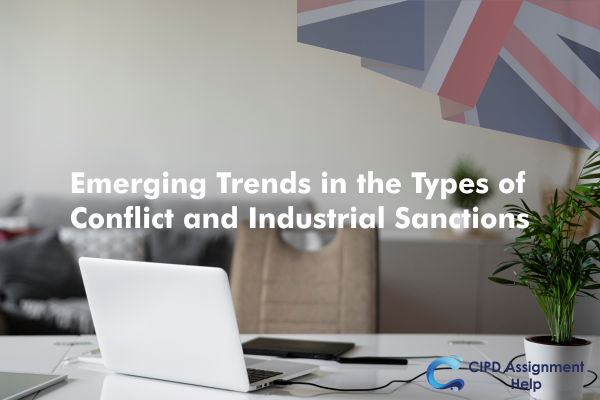 Emerging Trends in the Types of Conflict and Industrial Sanctions
Introduction
Conflict is an inevitable part of any workplace, and its impact can range from isolated incidents to ongoing difficult relationships. As organizations strive to create harmonious work environments, it is crucial to understand the emerging trends in the types of conflict and industrial sanctions.
This article explores the scale of workplace conflict, different forms of organisational conflict and behaviour, the rise in industrial action, the skills required for effective grievance and dispute handling, and the distinctions between third-party conciliation, mediation, and arbitration. By delving into these areas, we can gain insights into the evolving nature of conflicts and the strategies employed to address them.
The Scale of Workplace Conflict
Workplace conflict is more prevalent than we might think. According to a survey conducted in the UK, approximately 38% of employees reported experiencing some form of interpersonal conflict in the past year. This includes isolated disputes or incidents of conflict, as well as ongoing difficult relationships.
While individuals tend to downplay less severe conflicts, one in four UK employees still considers conflict a common occurrence in their organizations. These findings align with previous research indicating a rise in workplace conflict and concerns about discrimination or victimization.
Different Forms of Conflict Behaviour and Dispute Resolution
Distinguishing Conflict from Misbehaviour and Official vs. Unofficial Industrial Action
Conflict in the workplace can manifest in various ways, such as unclear job roles, lack of communication, and disagreements among individuals or groups. It is essential to differentiate between conflict and misbehaviour.
Conflict arises from disagreements, while misbehaviour involves intentional actions that disrupt processes or systems. If conflicts and misbehaviours are not effectively managed, they can lead to official or unofficial industrial action.
Official industrial strike action occurs when employees purposefully stop paid work and is typically organized through a legal ballot. Unofficial strike action, on the other hand, refers to any industrial action not authorized by a trade union. Engaging in unofficial strikes can result in employee dismissal. Recent trends suggest that more individuals are resorting to industrial and unofficial employee action, driven by changes in social values and a desire for change and recognition.
Emerging Trends in Types of Conflict and Industrial Sanctions
Factors Contributing to Conflict and Industrial Action
Clashes of personalities, lack of clarity regarding targets and guidelines, and issues like absence policies contribute to workplace conflicts. Failure to address conflicts promptly and effectively can escalate the situation, leading to industrial action.
For instance, the removal of tribunal fees in the UK resulted in a 65.5% increase in unfair dismissal claims in 2018 compared to the previous year. Disability discrimination claims, particularly related to mental health, also saw a significant rise. These trends indicate a growing inclination among individuals to take industrial action as a means to express their concerns and seek resolution.
Impact on Organizations and Employees
Workplace conflicts and industrial sanctions have far-reaching consequences for both organizations and employees. They can disrupt productivity, decrease motivation and commitment, and even lead to job role changes, resignations, or dismissals.
The rise in conflicts and industrial action highlights the need for effective conflict management strategies and proactive approaches to industrial unrest to prevent such situations from escalating.
Skills for Effective Grievance and Dispute-Handling Procedures
Line managers must possess the necessary skills to effectively handle grievances and disputes. Depending on the level of the conflict, managers may require different training and development.
Active listening, asking appropriate open-ended questions, and remaining impartial are essential skills for managers in conflict resolution. Managers should also be aware of unconscious biases, empathize with individuals, and maintain a professional approach.
Knowledge of relevant policies, processes, and the ability to have difficult conversations are crucial for effective dispute resolution. Identifying when informal processes need to be formalized is also important to prevent conflicts.
Skills for Effective Grievance and Dispute-Handling Procedures
Line managers must possess the necessary skills to effectively handle grievances and disputes. Depending on the level of conflict, managers may require different training and development. Here are some essential skills for managers in conflict resolution:
Active Listening and Open-Ended Questions
Active listening is a fundamental skill for resolving conflicts. It involves fully concentrating on what the other person is saying, understanding their perspective, and responding appropriately.
By actively listening, managers can demonstrate empathy and better understand the underlying issues. Additionally, asking open-ended questions encourages individuals to express their thoughts and feelings, leading to a more comprehensive understanding of the conflict.
Impartiality and Awareness of Bias
Maintaining impartiality is crucial for managers when handling conflicts and employee relations. They should strive to remain neutral and unbiased, avoiding favouritism or taking sides. Recognizing and addressing any unconscious biases is essential to ensure fair treatment and resolution.
Empathy and Professionalism
Empathy plays a significant role in conflict resolution. Managers should strive to understand the emotions and experiences of the parties involved, demonstrating empathy without compromising professionalism. Showing empathy can help create a safe and supportive environment where conflicts can be addressed constructively.
Knowledge of Policies and Processes
Managers should be well-versed in the relevant organizational policies and procedures regarding conflict resolution. They need to understand the steps involved in handling grievances and disputes, ensuring they follow the established protocols. This knowledge enables managers to provide accurate guidance, make informed decisions, and resolve conflicts consistently.
Difficult Conversations and Mediation Skills
Handling conflicts often involve having difficult conversations. Managers should be skilled in initiating and facilitating these conversations in a calm, respectful, and assertive manner.
They should strive to find common ground, encourage open dialogue, and guide the parties toward mutually beneficial solutions. Mediation skills are particularly valuable in complex conflicts, where an impartial third party facilitates the resolution process.
Distinctions between Third-Party Conciliation, Mediation, and Arbitration
In more complex or protracted conflicts, organizations may seek the assistance of third-party interventions. There are three primary approaches: conciliation, mediation, and arbitration.
Conciliation involves a neutral third party assisting the parties in reaching a resolution. The conciliator identifies common interests in formal conflict, clarifies misunderstandings, and suggests potential solutions. However, the conciliator does not have the authority to impose a binding decision.
Mediation also involves a neutral third party, but the mediator's role is more active. Mediators facilitate communication, guide the negotiation process, and help the parties find mutually acceptable solutions. Mediation is voluntary, and any agreement reached is binding only if all parties agree to it.
Arbitration is a more informal and formal conflict process where a neutral arbitrator or panel hears the arguments of both parties and makes a binding decision. This process is similar to a legal hearing, and the arbitrator's decision is enforceable by law.
Each of these approaches has its advantages and is suited to different types of conflicts. Organizations may choose the most appropriate method based on the nature of the conflict, desired outcomes, employment and economic cycles and the willingness of the parties to participate.
Conclusion
Understanding the emerging trends in types of conflict and industrial sanctions is essential for organizations aiming to create harmonious work environments. Workplace conflicts can have significant impacts on productivity, employee morale, and overall organizational performance.
By equipping managers with the necessary skills for effective grievance and dispute handling, organizations can prevent conflicts from escalating and find mutually satisfactory resolutions.
Additionally, knowing the distinctions between conciliation, mediation, and arbitration allows organizations to choose the most appropriate third-party intervention when necessary.
By addressing conflicts proactively and resolving them constructively, organizations can foster a positive work culture that encourages collaboration, innovation, and long-term success.
FAQs
What are the emerging trends in industrial relations in the era of Globalization?
In the era of globalization, several emerging trends impact industrial relations. These include:
Global Workforce: With the advancement of technology and ease of international travel, companies are increasingly employing a global workforce. This trend brings diverse cultures, languages, and perspectives into the workplace, requiring organizations to navigate cross-cultural communication and manage diverse labour laws and regulations.
Outsourcing and Offshoring: Globalization has led to the outsourcing and offshoring of jobs to countries with lower labour costs. This practice has significant implications for industrial relations as organizations must address issues related to labour standards, fair wages, and employment conditions in both home and host countries.
Rise of Gig Economy: The gig economy, characterized by temporary or freelance work arrangements, has gained prominence in the era of globalization. This trend has blurred the boundaries between traditional employment relationships, leading to new challenges in terms of employment rights, worker classification, and collective bargaining.
International Union Cooperation: As multinational corporations operate across borders, there has been an increased emphasis on international cooperation among labour and trade unions. Unions are forming alliances and networks to address common issues, share best practices, and advocate for workers' rights on a global scale.
What are industrial sanctions
Industrial sanctions refer to actions taken by workers or labour unions as a means of exerting pressure or influence during labour disputes or negotiations. These sanctions aim to disrupt or limit the normal functioning of an organization or industry to put pressure on employers to meet their demands.
Common forms of industrial sanctions include strikes, work stoppages, go-slows (work slowdowns), and boycotts. Sanctions can have significant economic and operational impacts on organizations, making them a powerful tool for workers to express their grievances and negotiate better pay and working conditions.
What is an industrial conflict?
An industrial conflict refers to a disagreement or dispute between employers and employees or between different groups of employees within an organization. It arises when there are conflicting interests, goals, or expectations regarding employment conditions, wages, benefits, work policies, or other such collective employment law-related matters.
Industrial conflicts can manifest in various forms, such as strikes, work stoppages, lockouts, protests, or legal disputes. The resolution of industrial conflicts often involves negotiations, collective bargaining, or the intervention of third-party mediators or arbitrators. Effective management of industrial conflicts is crucial to maintaining harmonious workplace relations and ensuring the fair and equitable treatment of employees.
How can organizations promote constructive industrial relations?
Organizations can promote constructive industrial and employment relations, by implementing the following measures:
Effective Communication: Open and transparent communication channels between management and employees are vital. Regular communication helps build trust, clarify expectations, and address concerns or grievances promptly.
Employee Participation: Involving employees in decision-making processes, such as policy formulation or changes that affect them, can enhance their sense of ownership and commitment. This participation can be facilitated through mechanisms like employee forums, suggestion programs, or joint consultative committees.
Fair and Equitable Policies: Organizations should establish fair and transparent policies and procedures regarding employment conditions, performance evaluation, and grievance resolution. Ensuring consistency in employee representation and avoiding discrimination fosters a sense of justice and fairness among employees.
Training and Development: Providing training and development opportunities to employees enhances their skills, knowledge, and job satisfaction. It also signals the organization's commitment to its growth and development, which can contribute to positive industrial relations.
Conflict Resolution Mechanisms: Implementing effective conflict resolution mechanisms, such as grievance handling procedures, mediation, or arbitration, can facilitate the timely and fair resolution of disputes. These mechanisms should be accessible, impartial, and capable of addressing various types