5ENG Assignment Example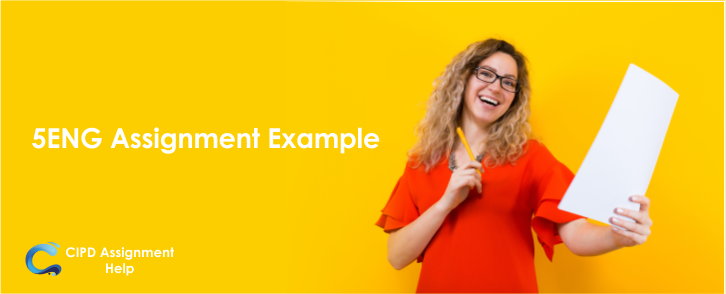 5ENG Assignment Example
Employee Engagement
1.1 An analysis of the meaning, principal dimensions and components of employee engagement and how it differs, if at all, from related concepts such as organizational commitment, employer involvement, job satisfaction.
Organizations emphasize on employee engagement as a strategy to bolster enthusiasm, motivation, and uptake of their long-term ambitions, goals, and strategies. Effective employee engagement bears a significant positive impact on work performance and hence, improved organizational productivity. Employee engagement entails a combination of the elements of an entity's commitment to its values as well as willingness to offer support to its stakeholders-organizational citizenship (Collings et al., 2018). Therefore, the outcomes of engagement include: improved productivity, employee/employer brand development, enhanced learning and development, increased motivation/commitment, and the generation of new ideas or improvements. While employee engagement births organizational commitment, it differs from organizational commitment, in that organizational commitment is a metric for measuring employee satisfaction while employee engagement is a devised method aimed at achieving organizational strategies and goals (Oluwatayo and Adetoro, 2020). Therefore, employee engagement does not always guarantee organizational commitment, but organizational commitment is a guarantee of job satisfaction.
According to William Kahn, a psychologist who sought to comprehend people engagement in the workplace, employee engagement is composed of three principal dimensions which include: physical, cognitive, and emotional engagement (Shrotryia and Dhanda, 2020). Physical engagement entails the degree to which employees expend both mental and physical effort in the conduct of their jobs. Kahn attributed the capacity to expend significant mental and physical energy during work, with increased levels of confidence (Shuck et al., 2017). Cognitive engagement requires employees to have knowledge of their employer's vision and strategies, along with the requisite standards of performance. In this case, Kahn emphasized on people attaching meaning to their roles, theorizing that increased levels of knowledge fostered higher degrees of confidence in decision-making along with improved creativity (Oluwatayo and Adetoro, 2020). Emotional engagement entails the nature of the relationship between an employee and their employer; a positive relationship requires that organizations cultivate a sense of belonging in their staff, fostering employees' trust and capacity to buy into their goals and objectives. According to Kahn, in this case, group dynamics, positive interpersonal relationships, and styles of management are examples of instrumental practices in making employees feel safe and trusted (Shuck et al., 2017). Kahn aimed at relating three psychological conditions-safety, meaningfulness, and possessing the ideal energy and resources-to the three employee engagement dimensions. Ultimately, he was of the belief that engaging individuals across these dimensions would yield feelings of security, importance, and the belief that they would have support in their mental and physical efforts.
2.1, 2.2 An identification of the principal drivers and business benefits of having an engaged workforce and a signposting of some of the steps an organization can take to create a culture of employee engagement e.g. through job design, discretionary behavior etc.
Principal Drivers
There exist various drivers of employee engagement, chief among them including: opportunities for growth, job security and value, merit-based appreciation and reward, and employee welfare. These principal drivers are vital in maximizing the productivity of the workforce and competitive advantage at large, by incorporating into the business strategies of an organization. Job satisfaction serves as an indicator as to how well these drivers are entrenched in the existent employee engagement strategies. When workers are content with their working conditions, their output complements other corporate components by maximizing their impact (Oluwatayo and Adetoro, 2020).
Opportunities for career growth serves an incentive for employees to buy into the visions and ambitions of their organizations. When organizations offer motivational factors such as promotion chances and pay increments, their staff are driven to make improvements to their competencies to have a better chance at enjoying the incentives therein (Shuck et al., 2017). Also, employees are more driven to actively participate in the operations of their organizations. Therefore, growth opportunities not only maximize an organization's productivity, but also improve the skill sets of its workforce, building employee capacity to handle new and emerging issues. Consequently, the organization's status as a going concern is better guaranteed.
Job security serves as an enabling factor for employee engagement as its accompanying policies guarantee the wellbeing of employees, enabling them to operate with freedom and visualization. Job security, as an enabling factor, functions in two opposing dimensions as employees who are not sure about their job security status will strive to prove their importance to their organizations, while those that enjoy job security will work hard to cement their positions and impact within their organizations (Shuck et al., 2017). However, uncertainty over job security may not always bear a positive impact on the attitudes of employees, as the fear of losing one's job may impede their productivity (Oluwatayo and Adetoro, 2020). Also, lack of job security may serve as an impetus for high employee turnover. On the other hand, job security inspires increased healthy competition among employees, as every individual seeks to contribute to the stability and growth of the organization (Shrotryia and Dhanda, 2020).
Merit-based appreciation and reward ensures that workers work hard to meet the performance levels that warrant rewards such as higher remuneration and other appropriate rewards. In this case, this performance-related appreciation and reward system rewards hard work and yields a highly motivated workforce. An organization may examine employee performance regularly based on information provided by line managers (Home, 2016). However, this method of appraisal may morph into a fertile ground for favoritism. To counter this problem, the organization in question may incorporate other appraisal methods such as employee ratings, objectives management, and group ranking (Analoui, 2017). This approach to performance motivation benefits the organization by achieving faster growth and expansion, minimized costs, competitive advantage, and increased productivity (Analoui, 2017).
Business Benefits of Having an Engaged Workforce
Every organization ought to evaluate the challenges and needs of its workforce as an approach to strategizing employee activities and roles, to mitigate future inefficiencies arising from current and emerging issues. An engaged workforce bears significant impact on other organizational stakeholders, creating a ripple effect that culminates in overall organizational success. In this case, an engaged workforce results in increased loyalty for the organization from pivotal stakeholders such as creditors and suppliers. Suppliers in particular, bear tremendous significance to the success of an organization as they are the providers of the requisite basic supplies for the production process. On the other hand, distributors ease the process of reaching the market. Therefore, by maintaining an engaged workforce, an organization is able to guarantee the loyalty of key stakeholders, yielding a seamless supply chain.
Steps an Organization Can Take to Create A Culture of Employee Engagement
Contemporary studies expand on William Kahn's work, widening the practice of human resources beyond simple motivation strategies, to more holistic employee engagement techniques. For instance, the CIPD champions the creation of a strategy that encompasses organizational commitment, work enjoyment, the quality of work relationships, and job satisfaction (Shrotryia and Dhanda, 2020). Engage For Success, a CIPD-sponsored organization, suggests four engagement enablers or principal drivers which include: manager engagement, employee voice, strategic narrative, and organization integrity (Oluwatayo and Adetoro, 2020). Kahn's work is evident in present-day employee engagement steps such as the implementation of wellbeing initiatives, which achieve physical engagement, the conduct of workshops incorporating employee views concerning organizational values and strategies, which achieve cognitive engagement, and the development of management programs that utilize coaching and active listening, achieving emotional engagement.
1.2 A brief explanation of the need for aligning engagement practices with other corporate components.
There is a need to ensure that employee engagement is line with other corporate aspects as this alignment fosters a conducive environment for the implementation of organizational strategies and achievement of organizational goals. Corporate components such as the mission and vision statements, the organizational scope and resources, strategies, and overall objectives, require the input of the staff to ensure the seamless function of the organizational structure (Oluwatayo and Adetoro, 2020). Similarly, members of the workforce possess individual goals, which must be aligned with those of the organization to ensure that their attention is drawn to their roles (Shuck et al., 2017). To achieve this alignment, the organization must make modifications to its policies such as pay increments and promotions, as a strategy to bolster employees' enthusiasm and engagement with other corporate components.
The impact of the organization and its culture, is enhanced by not the involvement of the employer, but also employee engagement. In this case, it is vital to ensure the alignment of employee engagement with corporate goals, to foster a feeling of ownership of the general organizational trajectory, in the staff (Shrotryia and Dhanda, 2020). This alignment can be achieved through the cultivation of a positive managerial attitude towards employees, along with offering employees, room for individual growth as well as promotions (Oluwatayo and Adetoro, 2020). This working environment serves as an impetus for hard work, with the aim of achieving corporate objectives. It is important to consider that dissatisfied employees lack the motivation to provide high quality input in their roles, hampering the productivity of the organization in general; an organization must therefore, factor job satisfaction into its corporate mission. Employer involvement is key to aligning employee perspectives with the larger organizational structure, creative a conducive work environment for not only corporate goals and objectives, but also the pursuit of individual growth (Oluwatayo and Adetoro, 2020). An aligned workforce functions with visualization and freedom, innovating more efficient approaches towards tackling current and emerging issues, as they are absorbed of worry concerning job security (Shuck et al., 2017). Also, employee alignment with other corporate aspects achieves employee loyalty by generating a sense of belonging and ownership of organizational success.
3.1 An evaluation of suitable diagnostic tools for measuring employee attitudes and levels of employee engagement.
Study shows that organizations that have highly engaged workforces at the 99th percentile are four times as successful as the organizations at the first percentile (Shuck et al., 2017). However, there is no single perfect approach to measuring employee engagement as it entails a complex combination of human emotions. Therefore, a combination of various tools to track employee engagement and attitudes, depending on the individual circumstances of an organization, gives a fairly reliable overview of how well the organization aligns and motivates its workforce. Examples of suitable tools, in this case, include: focus groups, pulse surveys and polls, and holding exit interviews.
Focus Groups
The approach of convening an employee focus group entails following a well-structured set of instructions, gathering groups of 6 to 12 employees together to hold discourses. In this case, the party that convenes this meeting prepares questions beforehand, to which the employees in question are required to provide answers. Effective focus group questions should be restricted to critical employee engagement metrics. These metrics include: whether the employees are of the opinion that work is pivotal to the organization, and whether they have the requisite resources for the effective conduct of their roles (Oluwatayo and Adetoro, 2020). When dealing with a focus group, it is imperative that the organization in question seeks the input of a neutral moderator to regulate the group, to ensure that supervisors do not impede the discussion (Shrotryia and Dhanda, 2020). In this case, the moderator may be tasked with conveying the general tone of the discussion to the organization's top management.
Pulse Surveys and Polls
Pulse surveys and polls are often made up of a brief question or two, sent out to employees, and are aimed at gauging current employee satisfaction, providing an immediate overview of the staff's mood. Also, less frequently, an organization's management may send out surveys and polls that measure employee satisfaction from a deeper perspective. Surveys and polls, as a diagnostic tool, should be limited to three metrics which include: satisfaction, alignment, and future orientation (Oluwatayo and Adetoro, 2020). Satisfaction entails an employee's level of happiness with their duties, remuneration, benefits, supervision, and general working conditions. Alignment entails an employee's level of motivation vis a vis their organization's goals and missions. Future orientation entails whether an employee envisions a future at their organization or whether they intend to transition to a different organization. It is important to incorporate open-ended questions during surveys as they offer a dynamic view of the attitudes of employees (Shuck et al., 2017). Similarly, single-click polls are instrumental in gauging the degree of satisfaction as they are presented in various faces, from satisfied to neutral to dissatisfied, injecting a degree of accuracy into the measurement process (Oluwatayo and Adetoro, 2020).
Exit Interviews
Exit interviews seek to establish areas where things went wrong, by focusing on individual cases. While some employees leave for personal reasons that are not tied to the organization in questions, some leave for reasons that reflect on the organization. To overcome feelings of self-consciousness about making critical comments, on the part of the departing employee, the asking part may focus on why the employee hopes to gain from seeking a new role (Shrotryia and Dhanda, 2020). Also, it is imperative to ask the departing employee for suggestions as to areas the organization can improve. This diagnostic tool better serves larger organizations, as the close relationship between employers and line managers in smaller organizations may make staff members feel guarded (Oluwatayo and Adetoro, 2020). It is ideal to accompany exit interviews with written surveys as individuals tend to be more open and honest when they are alone and unsupervised (Shuck et al., 2017).
3.2 An example of an employee value proposition (EVP) to promote levels of employee engagement making reference to what makes a 'good' EVP.
An Employee Evaluation Preposition (EVP) refers to an organizational tagline meant to attract high quality employees, by exuding an attachment of value to an organization's workforce. An effective EVP highlights an organization's comparative advantage as a way of tapping into the highly comment end of the human capital pool ahead of the competition (Shrotryia and Dhanda, 2020). Similarly, to build on its comparative advantage, the organization must appeal to potential employees by incorporating its values in its existent employees' profiles as well as in its EVP, as an added incentive (Shuck et al., 2017). An example of an EVP states, "We strive to building a company that is not only loved by our clientele, but also our workforce. We invest in our people's capacity to deliver on their roles while enjoy a fun working environment. Our organization is built to stand the test of time." This EVP alludes to support and love for the organization's workforce, creating a sense of belonging and ownership of the organizational vision and mission. In contracting its EVP, the organization in question must apply a conducive language to attract suitable job candidates, easing the work of HR and leaving the seamless flow of overall business intact. As seen in the above example, the organization in question understand the contemporary employee's need to be owned and supported by their organization. The present-day employee is drawn to organizations that commit to showing love, support, and appreciation for their staff, as employees mark the most important asset to any organization (Shuck et al., 2017). As seen the example above, the contemporary employee is not only drawn to the prospect of high remuneration, but also desires an environment that fosters a sense of belonging. Consequently, organizations must alter their EVPs to suit the needs of the present-day human capital market.
3.2, 3.3 Examples of relevant HR strategies to raise levels of employee engagement and address barriers
To achieve a higher level of employee engagement, the HR department of an organization is required to take the requisite steps and strategies to alter the policies of the organization to suit the needs of the workforce. In this regard, there exists a plethora of strategies through which the HR can foster higher levels of employee engagement and reduce barriers. Examples of such strategies include: increased access to training and development, involvement in HRM decision-making, and employee welfare practices.
Increased Access to Training and Development
The modern-day HR must demonstrate a more flexible approach to employee relations by giving employees greater access to training and development. Contemporary HRM policy must recognize the importance of timely data and consultation as the backbone of organizational success. HR must spearhead the administering of emerging information and consultation procedures (Home, 2016). In this case, HRM practices are tailored to the needs and concerns of employees. This is because, in today's competitive business environment, organizations are compelled to relook how they treat their workforce. Therefore, contemporary HR departments must foster employee engagement by showing the capacity to offer career growth through increased access to training and development, to face new and emerging issues.
Involvement in HRM Decision-Making
Employee participation in HRM decision-making yields a thinking performer who can set out their professional goals besides a time management plan for achieving set objectives. The modern employee has greater access to information on organizational and business needs and thus is in a better position to tap into opportunities that could be beneficial to their organization (Nankervis et al., 2016). Such employees actively contribute to the success of the organization as they have a sense of belonging and responsibility to the organization (Nankervis et al., 2016). Furthermore, this employee is an active listener and communicates freely and precisely with others (Nankervis et al., 2016). By involving such employees in HRM decision-making, the management finds it easy to adopt new working techniques in line with emerging technology.
Employee Welfare Practices
Employee welfare include various services, facilities, and benefits that employees are accorded by their employer in addition to basic wages and other statutory economic rewards (Noe et al., 2017). Organizations that expose their employees to adverse physical, emotional and mental effects are often synonymous with welfare amenities (Bailey et al., 2018). HR may intervene to alleviate the challenges of workers in oppressive conditions by implementing welfare policies and practices, demonstrating value for employees (Noe et al., 2017). On the other hand, HR policy in organizations whose operations are less dangerous may extends relevant welfare programs such as medical covers and psychological therapy services for mental health as a motivation tool (Rogers, 2016). Such practices benefit employees by guaranteeing sound physical and emotional health. Furthermore, such employees feel valued by their employer and thus, have the impetus to repay this gesture with loyalty and hard work.
Reference List
Analoui, F., 2017. The changing patterns of human resource management. Routledge.
Bailey, C., Mankin, D., Kelliher, C. and Garavan, T., 2018. Strategic human resource management. Oxford University Press.
Collings, D.G., Wood, G.T. and Szamosi, L.T., 2018. Human resource management: A critical approach. In Human Resource Management (pp. 1-23). Routledge.
Home, A.Z., 2016. NatWest: Another Global Bank Gone. The Big Four British Banks: Organization, Strategy and the Future, p.120.
Nankervis, A.R., Baird, M., Coffey, J. and Shields, J., 2016. Human resource management: strategy and practice. Cengage AU.
Noe, R.A., Hollenbeck, J.R., Gerhart, B. and Wright, P.M., 2017. Human resource management: Gaining a competitive advantage. New York, NY: McGraw-Hill Education.
Oluwatayo, A.A. and Adetoro, O., 2020. Influence of Employee Attributes, Work Context and Human Resource Management Practices on Employee Job Engagement. Global Journal of Flexible Systems Management, 21(4), pp.295-308.
Rogers, D., 2016. The big four British banks: Organization, strategy and the future. Springer.
Shrotryia, V.K. and Dhanda, U., 2020. Development of employee engagement measure: experiences from best companies to work for in India. Measuring Business Excellence.
Shuck, B., Adelson, J.L. and Reio Jr, T.G., 2017. The employee engagement scale: Initial evidence for construct validity and implications for theory and practice. Human Resource Management, 56(6), pp.953-977.