3DEL Delivering Learning and Development Activities
June 13, 2020

Posted by:

Harry King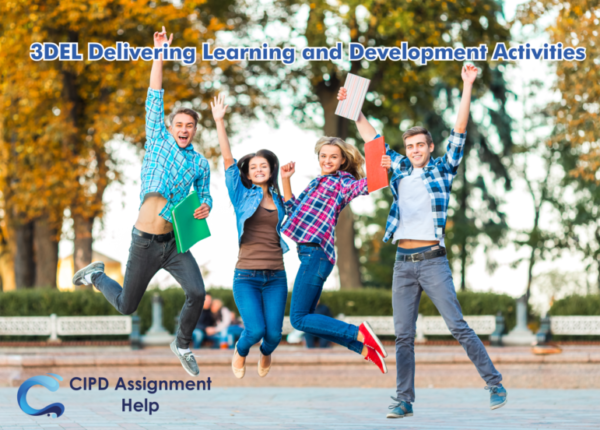 Delivering Learning and Development Activities
Learning and Development are about improving one's competence, skills, and knowledge of an employee. On this note, as a person expected to practice in this field, you need to get skills that will prepare you to conduct a learning and development session.
3DEL allows you to not only demonstrate your comprehension of the different concepts and theories regarding L & D, but also show your ability on a practical basis. This article guides you on how to complete the two activities in this module.
Session
In part one of the activities, you will be required to deliver an L & D learning session that will be at least 30 minutes long to a group of learners. From this exercise, you are expected to portray a clear understanding of what to do in an L & D session. In this case, when delivering your session, you need to show your skills in different aspects of L & D.
Issues of interest to the tutor include the state of the physical learning environment, your communication techniques, your choice, and use of learning resources, and how you monitor learning and individual engagement. The way you close your learning and development session is also important.
Physical Learning Environment
Your physical environment entails the design of the training venue, space, and materials in the room. The physical environment should be one that provides a conducive place to train your group. The room should have adequate space, with the necessary seats and desks where learners can take notes. The lighting in the room should be easily programmed, be sufficient, but can be dimmed.
The room configurations should exhibit a formal structure. A formal training room or auditorium is preferred to accommodate meetings and video presentations. It is recommended to have more relaxed styles with clear facilitation of the communication among the instructor and the participants. A round U-shape or an arc system provides a good environment to allow for an interaction between the trainer and the learners.
The delivery room should also have the necessary equipment that will allow easier delivery of the L & D session. In particular, you need to demonstrate the availability of some basic visual aids. As a bare minimum, you should have a whiteboard or a flat-screen with projection. In some cases, people have posted high quality L & D videos that have speakers, microphones, laser pointers, and projectors.
Communication and Training Techniques
To demonstrate that you are exhibiting proper communication techniques, you need to have good skills. In this case, you have to speak well be, audible, and express your thoughts in a clear yet engaging manner. As the trainer, you need to have rehearsed what you are delivering and show mastery in the topic. In this case, proper communication is pegged on how knowledgeable you are in the concepts that you are training on. This provides grounds for you to interact well with your participants and answer their questions promptly, precisely, and satisfactorily.
As the trainer, you also need to interact well with the audience. Indeed, having a good personality style will create enthusiasm and make it easier to attain your training goals. Besides, the training should not be a monologue but rather a dialogue between you and the trainees.
Your communication equipment and visual aids come in handy here. Some aspects are well communicated if there is a clear demonstration through charts and infographics. As such, you need to either have your presentation right to make a clear demonstration or even use a whiteboard.
Appropriate Training Techniques
Depending on what you want to train about, you can choose from diverse training techniques. As such, in your training session, your instructor is interested in seeing congruence between what you are training and the technique. You can choose your training from:
Classroom-Based Training Programs
Interactive Training
On-The-Job Training
Online based training.
 The Experiential Training Approach
You may choose the training technique based on several factors, such as the demographics of the trainees, level of seniority, and the nature of the jobs. As an advice, it is recommended to have active training that will encompass an interaction with the learners as it provides empowerment and motivation to learners.
For learning that requires demonstration, an experiential training approach is applicable that exposes learners to skills and processes that are needed in the work environment. This is most appropriate when the issues under perspective require practice to learn.
Monitoring individual Learner engagement and Closing Session
The level of learners' engagement is necessary as it influences the speed at which the learner will comprehend the concepts and ultimately improve his/her competency. One can monitor how well the learners are engaged by assessing how quickly the learners are engaged in responding to the questions that you raise or how fast they start to elicit questions.
You can tell how soon the students can complete the training objectives. If you are engaging in an interactive training technique, your progression in the learning will depend on how well your participants can comprehend the issues for you to move on. Fast completion may indicate greater engagement in learning. Further, depending on the nature of training, demographics of the trainees, and their seniority- you may administer a test. The test indicates how well the learners were engaged and forms the basis for the completion of the session.
When you are done with the training, you have to close the session in style and not abruptly. After that, you may respond to a few questions and elucidate further on how such skills become helpful in the training session.  In this case, you may request one of your trainees to give feedback and finally close the session with thanksgiving.
One More Thing,
Remember, you have to give a reflection of the entire process in your second activity, right? So you must explain your capability and readiness to deliver the activity based on the issues captured in this article.
Remember, this is the point to justify your choice of the technique, readiness, and physical environment of the training area. More importantly, the reflection has to capture your level of effectiveness in delivering L & D.
References
Stewart, J., & Cureton, P. (2014). Designing, Delivering, and Evaluating L&D: Essentials for Practice. NY: Kogan Page Publishers.
Lundkvist, A. H., & Gustavsson, M. (2018). Conditions for employee learning and innovation–interweaving competence development activities provided by a workplace development program with everyday work activities in SMEs. Vocations and Learning, 11(1), 45-63.
Bednall, T. C., Sanders, K., & Runhaar, P. (2014). Stimulating informal learning activities through perceptions of performance appraisal quality and human resource management system strength: A two-wave study. Academy of Management Learning & Education, 13(1), 45-61.
Lancaster, S., & Di Milia, L. (2014). Organizational support for employee learning. European Journal of Training and Development.
Davis, P. J. (2014). What employees do not like about L&D opportunities: and six learning strategies to win them back. Development and Learning in Organizations.