CIPD Level 3 Enhancing Learner Engagement (3ELE)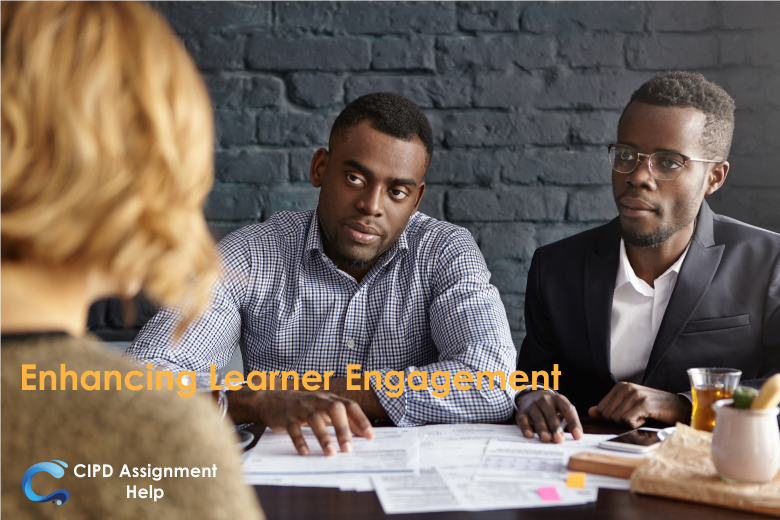 Background to Unit – Enhancing Learner Engagement
Learning and development (L&D) interventions can only have the desired impact if the learner(s) they are aimed at choose to engage with them. L&D practitioners have long looked to psychology, and more recently to brain and neuroscience for information, methods and techniques which will help them to make learning activities engaging and effective for all participants. This unit builds on some of the areas introduced in core units by looking in greater depth at the concept of learner engagement and some of the factors which impact on it. The unit explores the psychological background to L&D and particular psychology-based strategies that have been adopted by L&D practitioners, as well as the potential impact of findings emerging from brain and neuroscience. To ensure learners are aware of good practice in these areas, they will also learn about the ethical aspects of using psychology and neuroscience to underpin L&D. Finally learners are required to recommend a range of engagement strategies for different stages of the training cycle and to apply some of these within their L&D practice.
Learning outcomes
Understand factors that affect learner engagement.
Understand how psychology and neuroscience can inform strategies to engage learners.
Be able to select, apply and monitor strategies to enhance learner engagement.
Your task 
Activity 1 (AC 3.2, 3.3)
(This is an activity you need to complete in order to successfully complete Part 2, so there is no word count allocation for this)
Within different L&D activities, select and apply at least 2 strategies for engaging learners (e.g. enabling learners to see relevance of learning; encouraging learner choice & responsibility; agreeing 'learning contracts'; using a variety of learning methods to meet different needs and preferences; taking creative and exciting approaches to learning design and delivery; taking creative approaches to motivating and involving learners).
Monitor and draw conclusions about the effectiveness of these strategies.
Activity 2 (1,500 words)
You have been invited to give a talk on 'Enhancing Learner Engagement' at an L&D networking event.  In advance of the event, the event manager has sent you a list of questions that delegates have submitted (see below).  In preparation for this event, prepare a slide-based presentation which answers the delegates' questions.
(NB: You do not have to deliver the presentation).
What do we mean by the term 'learner engagement' and why is it desirable? (AC 1.1)
What reasons are there (at least three) for learners not engaging in L&D? (AC 1.2)
Please give two examples of how has work from the field of psychology been used within L&D, to help engage learners? (AC 2.1)
Please give two examples of how work from the field of neuroscience has been, or could be, used within L&D, to help engage learners? (AC 2.2)
What ethical factors do we need to consider when making use of psychology and neuroscience-based models, theories, tools or materials, to enhance learner engagement? (AC 2.3)
Please give an example of how we can engage learners at each stage of the training cycle (e.g. in identifying their own needs; planning their own development; participating in learning activities; and contributing to evaluation)? Include 1 example for each stage. (AC 3.1)
What strategies have you personally tried for enhancing learner engagement? Refer to Activity 1 for this. (AC 3.2)
How did you monitor the effectiveness of these – and how effective were they? Refer to Activity 1 for this. (AC 3.3)
Key Learning Summary and Development Plan (AC 3.1 BEP)
As you progress through the qualification, you should identify potential improvements and further development needs and action to meet them.
You will be required to reflect on any learning from your assessment and wider study of the unit, your work on your assignment (including attendance at the workshop), and the progress of your development plan objectives. You should then allocate appropriate time to complete the Key Learning Summary reflection.
You should also identify any learning points for the future and add to your Development Plan accordingly and also give small updates on any on-going objectives in the right-hand column, (using a different font colour or other visual indicator that links with your KLS colour).
You should submit your Key Learning Summary and Development Plan as a separate document on Moodle with your submitted assessment by the assessment deadline date.
Activity 3.1 (BEP) will not be signed off as completed until the end of your programme of study, however your assessor and trainer will give you feedback throughout for you to make changes if necessary.
Throughout the assessment, you should refer to best practice and relevant legislation where appropriate, and include reference to appropriate literature sources to demonstrate your wider reading. Demonstrating evidence of wider reading through appropriate referencing will improve your answer and increase the likelihood of your work achieving a 'Pass'.
Submission checklist
Assignment Cover Sheet
Slides and Notes (underneath the slides) totalling to 1,500 words
Updated Development Plan and Key Learning Summary
References/Bibliography