Assess the Scale of Technology within Organisations and how it Impacts Work
April 7, 2023

Posted by:

Harry King

Category:

CIPD Level 5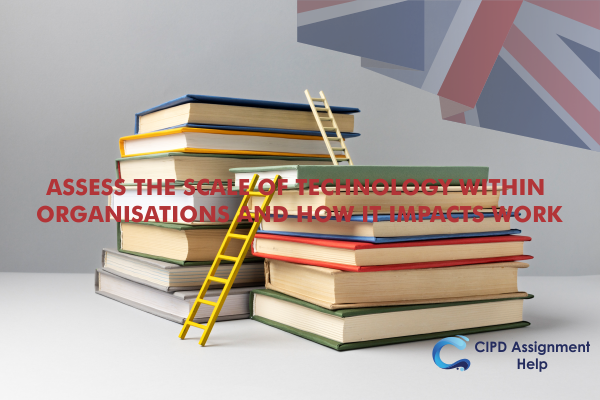 Technology has significantly changed how businesses run and how work is carried out. Depending on the size and sector of the firm, the extent of technology use varies, but most businesses now consider technology to be an essential component. Many advantages have come from using technology, including better communication, expanded access to information, and enhanced productivity. However, it has also brought forth fresh difficulties like job displacement and cyberattacks. I will go into greater detail on the advantages and disadvantages of technology for the workplace in this post, using examples and examining the implications for businesses.
Efficiency gains are among the most important advantages of technology in the workplace. The completion of activities more quickly and with fewer mistakes is made possible through automation and digitization. Using a digital inventory management system, for instance, a manufacturing company may track its stock levels quickly and efficiently, eliminating the need for human counting and lowering the possibility of mistakes (Dwivedi et al., 2020). By doing this, the company may be able to save time and money and concentrate on more strategic duties. A speedier resolution of client concerns and greater customer satisfaction are two further benefits of using technology in customer service. For instance, a business that employs a chatbot on its website can offer clients assistance around the clock, eliminating the need for human customer care.
Collaboration and communication have improved as a result of technology. No matter where they are located, employees can now communicate with one another more easily thanks to tools like email, instant messaging, and video conferencing. This is especially advantageous for firms with a global presence and remote staff (Dwivedi et al., 2020). Additionally, teams may now work on projects collaboratively in real-time, regardless of where they are, thanks to cloud-based collaboration systems like Google Docs and Microsoft Teams. This can result in projects being completed more quickly (CIPD, 2020). Technology utilization also enables businesses to broaden their reach and get access to a worldwide market, which may result in an increase in revenues.
Technology can also be detrimental to the workplace. The possible loss of jobs due to automation is a serious worry. As hardware and software develop, they can take over jobs that were previously performed by people. This could result in job loss and unemployment, especially for low-skilled employees (Dwivedi et al., 2020). For instance, the usage of self-checkout devices in retail establishments has resulted in the loss of cashiers. Furthermore, because workers are expected to be constantly connected and ready for work, technology use can lead to increased stress and burnout. Burnout, exhaustion, and mental health problems may result from this.
The potential for cyberattacks is another drawback. Organizations are more vulnerable to data breaches and cyberattacks as sensitive information is exchanged and kept online in greater quantities (CIPD, 2020). This may result in monetary losses, harm to the company's reputation, and a decline in customer confidence. For instance, a healthcare organization's data breach may expose private patient data, which may have severe financial and legal repercussions.
In summary, technology has significantly changed how businesses run and how labor is completed. While there have been numerous advantages, such as greater communication and increased productivity, there have also been new difficulties, such as job displacement and cyberattacks. Organizations must carefully assess the potential repercussions of technology and put mitigation measures in place. This can involve putting money into employee training and retraining programs to make sure they have the skills necessary to adopt new technology, as well as putting security measures in place to guard against cyber-attacks. Companies should also take measures to reduce burnout and exhaustion and take into account the potential effects on employee mental health.
References
CIPD, 2020. Workplace Technology: The Employee Experience. [ebook] London: CIPD. Available at: https://www.cipd.co.uk/Images/workplace-technology-2_tcm18-80853.pdf.
Dwivedi, Y. K. et al. (2020). Impact of COVID-19 pandemic on information management research and practice: Transforming education, work and life. International journal of information management, 55, 102211.